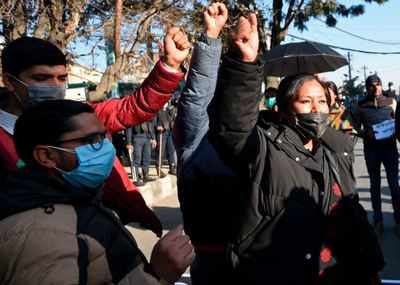 Protesters shout slogans during a demonstration against the dissolution of the country's parliament in Kathmandu on January 1, 2021 (AFP)
NEW DELHI: While India has not been a factor or played a role in the current phase of political turbulence in Nepal, political and government sources here believe Nepal should take the democratic route, which in this case would mean elections, to resolve the impasse.
It's also becoming clear that although China may have failed in its mission in Nepal for the present, Chinese involvement in Nepali politics has grown deep enough in the past few years to ensure that all shades of political opinion can be influenced by China.
All political analysts in Kathmandu agree that PM K P Sharma Oli currently holds most of the cards — on dissolution of the House, on elections etc. How he will play those cards, whether with the help of China or India, remains to be seen. Oli can play the nationalist card or the Hindu card at will. He also is the biggest investment by China in Nepali politics.
Sources in Kathmandu say that China has not yet given up the game. Having sponsored many political leaders in Nepal, China's influence in fairly deep and wide. India's role currently is restricted to ensuring that New Delhi is not a factor in the current turbulence or even in the forthcoming election campaign.
A formal split in the NCP is yet to be announced, but sources say, backroom machinations are on in full swing. They point to several evolving scenarios in Nepal. First, the split would impact the election campaigns of the factions. The election commission would have to decide on who gets the NCP election symbol, which could be a tussle. It could end up with both factions getting different symbols.
Second, sources say the question of dissolution of Parliament may have to be decided by the Supreme Court. In addition, they say, Oli could drag the current state beyond May to November before actual elections are held.
If there is a question about having a neutral party as interim PM, the chief justice could be acting PM, which could throw up a whole new set of constitutional and political challenges.
FacebookTwitterLinkedinEMail