Sugar Bowl Preview: Ohio State Seeks Elusive Win Against Clemson in College Football Playoff Semifinal Rematch – Eleven Warriors
13 min read
370 days later, Ohio State gets another shot at Clemson.
All offseason long, reminders of Clemson's 29-23 win over Ohio State in last year's College Football Playoff semifinals were displayed within the Woody Hayes Athletic Center. From the moment Nolan Turner intercepted Justin Fields' final pass to seal victory in the 2019 Fiesta Bowl between the Buckeyes and the Tigers, getting back to this season's College Football Playoff and getting a shot at redemption against Clemson has been on the Buckeyes' minds.
The Buckeyes did what they needed to do to earn that opportunity, winning all six of their games in a truncated regular season full of stops and starts and COVID-19 tests, and their chance for revenge against the Tigers – and to earn a berth in the national championship – will finally come on Friday night.
"This is the reason why everybody worked so hard during that offseason was to get to this opportunity," Ohio State coach Ryan Day said. "So now we've got to go make the best of it."
The Headlines

Can Ohio State finally beat Clemson?

Ohio State's previous struggles against the Tigers have been well-documented, as the Buckeyes have lost all four of their previous matchups against Clemson. Three of those losses have come in the last seven years, with the last two coming in the College Football Playoff, including a 31-0 rout by the Tigers in 2016.
As a result, Clemson has achieved a level of hatred in Columbus that only Michigan can rival, as many Buckeyes and their fans have had their sight set all year on beating the Tigers more than anything else. Dabo Swinney's recent comments questioning whether the Buckeyes belong in this year's playoff have further stoked the flames, but the hatred has already been simmering for years because of Clemson's previous wins.
There's no bigger monkey on Ohio State's back right now than its winless history against Clemson, which will either make a win on Friday that much more special or a loss that much more heartbreaking.
"We've never beat Clemson, so we have to beat that team, and that's what we're trying to do," Ohio State cornerback Shaun Wade said this week.
Can the Buckeyes play their best when they need it most?

Ohio State's coaches and players haven't been afraid to admit it: If the Buckeyes are going to beat Clemson on Friday, they have to play their best and most complete game of the season.
Fields, after an uncharacteristically poor performance in the Big Ten Championship Game, has to get back to being Justin Fields. Ohio State's pass defense has to be much better than it was against Indiana, the last time it played a team with a good passing offense. In all phases, Ryan Day says, the Buckeyes need to bring their A-game to beat the best team they've played all year.
"I don't think that we've, as a team, played our best game yet," Day said. "So I think that's the challenge, and we're going to have to play that way tomorrow. But that's everybody. It's Justin. It's the O-line. It's the running backs. It's the receivers. It's the entire team."
All of that might sound cliché, but in this game it really isn't. While Ohio State has played well enough to beat the six teams it has played so far this year, it hasn't yet played the complete game in all phases that it needs to beat a championship-caliber opponent like Clemson. That's partially because the Buckeyes have played only six games, but they have to play up to their potential in their seventh game of the season if they're going to continue their season for an eighth.
Will Ohio State be back to full strength, or at least close?

After Ohio State had two dozen players unavailable for the Big Ten Championship Game, the other big question that's lingered for the past two weeks is whether the Buckeyes will have most of those players back on Friday. As always, Ohio State has been tight-lipped about players who have tested positive for COVID-19 or suffered injuries, though Ryan Day said Thursday that "the plane's a little bit more full than it was a week ago."
Indications are that the Buckeyes should be closer to full strength than they were in either of their last two games – and they already went through their final round of pregame COVID-19 testing on Thursday morning – but we won't know for certain which players are available or unavailable to play until the team releases its status report Friday evening. And just because a player made the trip to New Orleans doesn't necessarily mean that player has been cleared to play on Friday, as the Big Ten's protocol allows players to return to the team 10 days after a positive test even though they can't return to game action for 17 days.
"Full strength is a floating target right now because there's guys who come off of the isolation, and then they have a protocol to get back onto the field," Day said Thursday. "You don't just play football after not doing anything for 10 days. And so I think there's certain levels of return-to-play. And all those guys who were missing there for the last month are working their way back into it. So we are getting a lot of guys back. But to say 100%, it's different this year."
While it is known that Fields made the trip to New Orleans and is fully expected to play on Friday, there is also the question of whether he'll be completely healthy and able to throw the ball to his usual ability after he suffered a thumb injury in the fourth quarter against Northwestern. Both Fields and Day said this week that Fields will be fine to play, but did not elaborate beyond that, and we probably won't know for sure how healthy he is until the game begins.
Keep an Eye on These Guys

QB Trevor Lawrence

Having Fields at quarterback means Ohio State usually has the best quarterback on the field in just about every game, but that might not be the case on Friday. Lawrence, a Heisman finalist who is projected to be the No. 1 overall pick in the 2021 NFL draft, has a strong case for being the best quarterback in college football, and he's the biggest reason why Clemson is back in the CFP and favored to beat Ohio State once again.
Lawrence, who has lost just one start in his entire three-year collegiate career – last year's national championship game against LSU – is both an elite passer and a threat to make plays with his legs, as Ohio State learned the hard way last year when he threw for 259 yards and two touchdowns and ran for 107 yards and another touchdown.
"He does so many things very, very well," said Ohio State defensive coordinator Kerry Coombs. "I would say he's arguably one of the great college football quarterbacks of all time based on his production and winning games. He is a play-extender, and he does a great job of avoiding rush, side-stepping rush, getting outside the pocket, running the ball or extending the play and throwing the ball. And he makes very, very, very few poor decisions."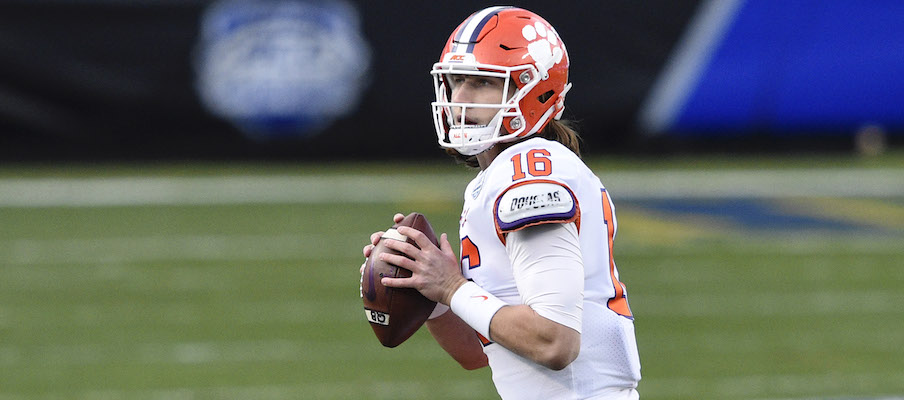 Trevor Lawrence has lost just one game in his collegiate career. (Photo: Bob Donnan – USA TODAY Sports)
For an Ohio State defense that ranks just 105th in the Football Bowl Subdivision with more than 261 passing yards allowed per game, going up against Lawrence will be its toughest test yet, and the Buckeyes' secondary and pass-rush must be at their absolute best if they're going to keep him in check.
Projected Starters
OHIO STATE
POS
CLEMSON
OFFENSE
JUSTIN FIELDS
QB
TREVOR LAWRENCE
TREY SERMON
RB
TRAVIS ETIENNE
CHRIS OLAVE
WR
AMARI RODGERS
GARRETT WILSON
WR
CORNELL POWELL
JAMESON WILLIAMS
WR
E.J. WILLIAMS
LUKE FARRELL
TE
BRADEN GALLOWAY
THAYER MUNFORD
LT
JACKSON CARMAN
HARRY MILLER
LG
MATT BOCKHORST
JOSH MYERS
C
CADE STEWART
WYATT DAVIS
RG
WILL PUTNAM
NICHOLAS PETIT-FRERE
RT
JORDAN MCFADDEN
DEFENSE
JONATHON COOPER
DE
MYLES MURPHY
TYREKE SMITH
DE
JUSTIN MASCOLL
TOMMY TOGIAI
NT
TYLER DAVIS
HASKELL GARRETT
DT
BRYAN BRESEE
PETE WERNER
WLB
BAYLON SPECTOR
TUF BORLAND
MLB
JAMES SKALSKI
BARON BROWNING
SLB
MIKE JONES JR.
SHAUN WADE
CB
DERION KENDRICK
SEVYN BANKS
CB
SHERIDAN JONES
JOSH PROCTOR
CB/SS
LANNDEN ZANDERS
MARCUS HOOKER
FS
JOSEPH CHARLESTON
RB Travis Etienne

The other superstar on Clemson's offense is Etienne, who also made huge plays to burn the Buckeyes last year, scoring a trio of touchdowns – two receiving, one rushing – on 98 receiving yards and 36 rushing yards. While the Buckeyes were able to mostly bottle up Etienne in the running game, he made two of the game's most pivotal plays when he turned a short pass into a 53-yard touchdown in the third quarter and then did the same from 34 yards with less than two minutes to play for what would be the game-winning touchdown.
One of the most productive running backs in college football history – he's scored a touchdown in 45 career games, more than any other FBS player ever – Etienne has rushed for 882 yards and 13 touchdowns on 158 carries and caught 44 passes for 524 yards and another two touchdowns this season. He's had 18 plays of more than 20 yards this season, tied for the eighth-most in the FBS, including 11 receiving plays and seven rushing plays.
His explosive speed and ability to make big plays in both phases of the game makes him a player Ohio State's defense must be prepared to defend on every down.
"He's so versatile with the ways he can attack you on defense," said Ohio State linebacker Pete Werner. "He can run the ball very well, and he's shown when defenses have gotten lazy and gotten out of their gaps, he'll expose them. As well as he can catch the ball on a screen and go a long way. So he's very versatile, and he can beat defenses whether he's running the ball or passing the ball."
S Nolan Turner (in the second half)

A second-team All-American, Turner is the anchor of Clemson's secondary, providing crucial leadership and a veteran presence on the back end of the Tigers' defense. He's known all too well by Ohio State fans for his game-sealing interception last year, but the zero-star recruit has arguably been Clemson's best defensive player this year, leading the Tigers with three interceptions and 37 solo tackles.
The real players to watch on Clemson's defense, though, might be whoever fills in for Turner at safety – most likely Lannden Zanders and Joseph Charleston – for the first half of Friday's game, which he'll miss after being ejected during the second half of the ACC Championship Game for targeting. With Turner on the sidelines, that could create an opening for Ohio State to make more big plays over the middle of the field in the first and second quarters, and the Buckeyes should surely look to take advantage.
Turner is optimistic, though, that whoever plays in his place will fill in effectively until he's able to enter the game in the third quarter.
"I think Lannden and Joe all year have played a lot of football and have done a great job. Two really athletic young guys that have played a lot of football now," Turner said. "I think Ray Thornton, Tyler Venables, R.J. Mickens are all guys that have had great weeks of preparation in practice. So I'm super confident whoever we have play this week. We just have a great group of committed guys in the back end and super confident they can get the job done."
Game Week Talk

"We had a whole winter/offseason program dedicated to this game, and clearly what we've seen all week and I'm sure all of you have seen this week, we're going into this game not respected at all. So that adds a lot of motivation."– Ohio State right guard Wyatt Davis
As aforementioned, Ohio State constantly reminded its players during the offseason about last year's 29-23 loss to Clemson as a message that the Buckeyes would need to be better this year than last year to have a chance to finally beat the Tigers and get to the national championship game this year. Swinney's comments leading up to this game and ranking Ohio State 11th in the Coaches Poll, coupled with the Buckeyes being a 7.5-point underdog, has only increased their desire to beat the Tigers on Friday.
"I don't think you need any more motivation other than you're two games away from winning the whole thing. After this long journey we've been on, this is the stage we wanted to be on."– Ryan Day
While it would be naive to think Ohio State isn't using Swinney's comments or those doubting the Buckeyes' chances of winning as bulletin-board material this week, Day doesn't think the Buckeyes should need any extra fuel for playing in Friday's game when there's a trip to the national championship game on the line.
"It feels nothing like the South Carolina rivalry or any other games that we may see as a rivalry. I feel like they have more beef with us than we have with them."– Clemson wide receiver Amari Rodgers
While the Buckeyes haven't hid the fact that Clemson has been on their minds all year long, the Tigers don't have the same feelings toward Ohio State – or at least their top receiver doesn't. Given their track record of success against the Buckeyes, they don't have reason to; while they're just as motivated to get to the national championship game as Ohio State, to them the Buckeyes are just another team in their way of their ultimate goal, not a team that's already handed them heartbreak multiple times over.
Get Smart

Ohio State has a 2-2 all-time record in College Football Playoff games. The Buckeyes have lost their only two CFP games, both against Clemson, since beating Alabama and Oregon to win the national championship in the inaugural CFP.
Ohio State has a 3-2 all-time record in the Sugar Bowl. The Buckeyes have won their last three trips to the Sugar Bowl, including their win over Alabama in the inaugural CFP semifinals, after losing their first two.
Clemson is making its fifth consecutive appearance in the CFP. The Tigers have advanced to the national championship game in four of their five playoff appearances, winning two of those four national championship games.
Clemson has two players on its roster from Ohio, both starting offensive linemen: Left tackle Jackson Carman and left guard Matt Bockhorst. Ohio State does not currently have any players on its roster from South Carolina.
Chandler Whitmer, a graduate assistant for Clemson, was previously a graduate assistant at Ohio State.
Clemson offensive coordinator and running backs coach Tony Elliott will be unavailable for Friday's game after testing positive for COVID-19. Quarterbacks coach Brandon Streeter will serve as Clemson's lead offensive play caller in Elliott's place, while graduate assistant C.J. Spiller – a former Clemson running backs himself – will coach the running backs in Friday's game.
One unidentified scholarship player and one walk-on also did not make the trip to New Orleans with Clemson, Swinney said Thursday.
How It Plays Out

Line: Clemson -7.5, O/U 67.5

After last year's game went down to the final minute of the fourth quarter, there's certainly reason to expect another close battle on Friday night. As two of the three most talented teams in college football, and teams that rarely lose to anyone, a competitive, back-and-forth battle with both teams making big plays should be expected, and any one play could potentially swing the game in either team's favor.
That said, there's a reason why the Tigers are a touchdown-plus favorite entering this game. With five more games of experience under their belt, Clemson is seemingly peaking at the right time, whereas Ohio State knows it needs to play better than it has all season to have a good chance to win.
Ohio State is more than talented enough to do that, and with a roster that will likely be healthier than its last couple of games combined with through-the-roof motivation, there's reason to expect the Buckeyes' best on Friday. But picking Ohio State to win still requires a leap of faith that the secondary will be able to hold its own, that Fields will be better than he's been in the Buckeyes' two biggest games of the year to date and that the Buckeyes will win the battles at the line of scrimmage.
None of that is out of the question, nor is there a guarantee that Clemson will play its best football, but a game of this magnitude isn't going to be swung by Swinney giving the Buckeyes bulletin-board material. It's going to be determined by who can execute the best in all phases of the game, and the Tigers have been the sharper team down the stretch.
Anything can happen in a game of this magnitude, and this game certainly seems more likely to be a close four-quarter battle than a blowout win for either team. On paper, however, Clemson is the more complete team and its passing offense could have a significant edge against Ohio State's passing defense. That's why it will be viewed as an upset if the Buckeyes finally get their first win over the Tigers on Friday night.
31
34