NEW DELHI: A thick haze engulfed the city within a matter of hours on Wednesday afternoon, with visibility dropping considerably. It fell to as low as 600 metres at Safdarjung as air pollution levels shot up to around 10 times the standard for PM 2.5 concentration by 3 pm.
Track the pollution level in your city
Delhi's overall Air Quality Index (AQI), measured over a 24-hour period, also shot up sharply during the day, deteriorating from the 'poor' category in the morning to the 'very poor' category at 343 by 4 pm. The city is likely to witness further deterioration in the AQI over the next 24 hours and it may even touch 'severe', according to officials.
TimesView
Smog enveloped Delhi in an apocalyptic shroud on Wednesday. In this backdrop, the ordinance brought by the Centre to tackle air pollution late last month is timely. But intention always needs to be backed by a commitment of purpose and action. The Centre must walk the talk, and fast.
A Dim View Of Things In Delhi
Visibility as low as 600 metres at safdarjung; air quality may dip further in next 48 hours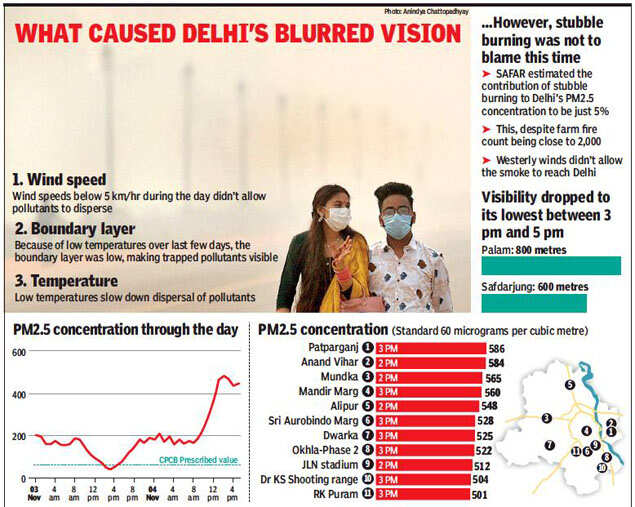 According to experts, a mix of factors, such as low wind speed, a low mixing height and low temperatures, which have been prevailing in the region over the past 48 hours, led to stagnant conditions with the wind speed remaining below 5 km/hr for several hours. However, stubble burning did not contribute to this episodic event with SAFAR, a central government agency, pegging the contribution of farm fires to Delhi's air at just 5%, owing to a change in wind direction.
The IMD has also warned of moderate fog on Thursday morning due to these prevailing 'calm' conditions.
Kuldeep Srivastava, scientist at India Meteorological Department, said: "Calm wind conditions prevailed on Tuesday night, and even during the day on Wednesday, the wind speed was below 5 km/hr, making it tough for pollutants to disperse. Besides this, the minimum temperature has been hovering around 10 degrees Celsius for the past two days. A low temperature slows down dispersion of pollutants." He added that as the wind direction changed to westerly on Wednesday morning, there was minimum transfer of pollutants from Punjab and Haryana.
According to IMD, the visibility dropped to its lowest at 600 metres at Safdarjung station while it was 800 metres at Palam from 3pm to 5pm on Wednesday.
On Thursday, the minimum temperature stood at 10.6 degrees Celsius, four notches below normal, while the maximum temperature was 28 degrees Celsius, two degrees below normal. The season's lowest minimum temperature was recorded at 10 degrees Celsius, five notches below normal, on Tuesday.
SAFAR said air quality was expected to deteriorate further in the next 48 hours, owing to unfavourable meteorological conditions. "There is a high probability that a shift in wind direction for a limited period may bring a plume of smoke as upper wind speed is highly favourable. This may cause a sudden jump in particulate pollutants for some time, leading to a higher 24-hr average by tomorrow. It is likely to increase the share of stubble-related intrusion by Thursday," said SAFAR.
While 1,949 fire counts were recorded by SAFAR in the northern plains on Tuesday, it pegged the contribution of stubble burning to Delhi's air at just 5%. The mixing height or a low boundary layer also played a key role with pollutants visibly close to the surface.
"The rise in PM2.5 values on November 4 can be explained by low wind speeds and solar radiation," said Tanushree Ganguly, programme associate at Council on Energy, Environment and Water (CEEW). "As per data reported by the Major Dhyanchand National Stadium and East Arjun Nagar continuous ambient air quality monitoring stations, in addition to low wind speeds of less than 7km/hr, the solar radiation was less than 300 W/m2 which resulted in a low mixing height during the day. Low mixing heights trap particulates closer to the surface. Both wind speed and solar radiation were found to be lower compared to the last two days."
CPCB data showed Delhi's hourly PM 2.5 concentration rising through the day. At 6 am, it was recorded at 161 micrograms per cubic metre (mpcm). By 10 am, it had touched 235 mpcm, and by 2 pm, it had reached 485 mpcm. The standard for PM 2.5 is just 60 mpcm. Readings were even higher at individual stations. Anand Vihar recorded an hourly PM 2.5 concentration of 584 mpcm at 2 pm while Patparganj recorded a high of 586 mpcm at 3 pm. Mandir Marg had a high of 560 mpcm at 3 pm while Mundka recorded a high of 560 mpcm. Even the Dr Karni Singh shooting range station, located in a green, forested area in south Delhi recorded a high of 504 mpcm at 3 pm.
Anumita Roy Chowdhury, executive director, research and advocacy, Centre for Science and Environment (CSE), said: "The contribution of stubble to Delhi's air was reduced to only 5% but the adverse weather conditions led to trapping of local pollutants. It shows why we must have stringent control on local pollutants. Stubble is variable as it comes and goes. However, continuous pollution happening inside the city makes Delhi hugely vulnerable when the weather turns adverse like Wednesday when the wind dissipated and couldn't blow away the pollutants. This shows that we have to strengthen our local action."