GUWAHATI: With the phase-wise relaxations in lockdown, the air quality index (AQI) in Guwahati has once again started deteriorating, posing a threat to Covid-19 patients who normally suffer from breathing problems.
Track the pollution level in your city
So far, the virus has infected over 2 lakh people in the state of which 8,481 cases are still active. Altogether 932 have succumbed to Covid-19.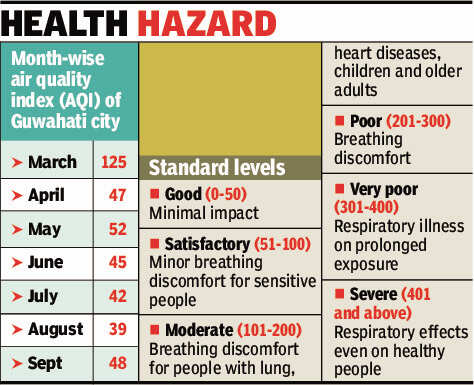 On Tuesday, the city's (AQI) was 103, which is categorized as "moderate" by the Central Pollution Control Board (CPCB). Under this category of air quality, people with lung and heart disease, children and aged people face discomfort in breathing.
According to the CPCB data, the city's AQI was 82 on October 1.
Manoj Saikia, senior environmental scientist of the State Pollution Control Board, said the sharp fall in air quality may pose a threat to Covid-19 patients. "The air quality has been degrading sharply after the end of the rainy season due to dust and emission produced by vehicles and industries mainly. We all know that polluted air directly impacts our lungs. The winter, which is a dry season, may pose a challenge to handle the Covid situation," he added.
The air quality degrades during the period from November to March every year as there is no rain in the state.
Saikia appealed to people of the state to avoid bursting of firecrackers during Diwali this year. "The poisonous gas emitted during bursting of firecrackers and pollutant particles present in air make the smoke poisonous. Celebrate the festival this year respecting the health conditions of the Covid patients," he said.
The average monthly AQI in Guwahati was 125 in March, 47 in April, 52 in May, 45 in June, 42 in July, 39 in August and 48 in September.
Six air monitoring stations active in city
Guwahati has six National Air Quality Monitoring Programme stations. The stations are located at Bamunimaidan, Khanapara, Boragaon, inside ITI at Rehabari, Pragjyoti College at Bharalumukh and the Gauhati University at Jalukbari in the city. The AQI is based on measurement of PM2.5 and PM10, O3, NO2, SO2 and CO emissions. The state PCB basically monitors the presence of PM2.5 and PM10.
(With input from: Mukut Das)